Extra Events – Building Excitement at a Small/Medium Club
(by Steve Hopkins)
Every club has its own challenges.  Rhode Island is the smallest U.S. state.  And while we are located between Boston and New York and there is no shortage of players within a few hours, our biggest challenge is that we do not have a large population to draw upon.  It takes a little creativity to keep the tables full.
Last weekend, we set a day aside for a Rhode Island State Junior Championship and Rhode Island State High School Championship.  We limited entries to Rhode Island residents and to club members (the club is located about 5 miles from the Massachusetts border and we draw from both States).  The end result was competition of over 30 juniors spread out over 6 events – with parents and friends in the club.
The nuts and bolts of the tournament are worth noting for other small-sized and medium-sized clubs.  We had set aside Sunday as our Spring Open – so the club was already prepped and clean and ready to go.  We reached out to local High Schools (some directly and others through juniors who had played at our club).  We then used the same marketing efforts (emails and social media) that are normally used for our tournaments – only with a note that Sunday was a normal tournament and Saturday was a junior tournament.
We did not expand this into an open event including established junior players from the region.  Instead, this closed event encouraged our juniors and beginners (and friends and rec players) to enter the club and participate.  That reduced the quality of play, but changed the event into a recruitment effort.  This was billed as the perfect, low pressure FIRST TOURNAMENT for children – and we made sure the events ran smoothly and were fun.  All matches in the younger events included an umpire.  We did not enforce strict service rules for the youngest players (sometimes allowing a redo with some instruction).  The goal was not to alter results – but rather to provide instruction and positive reinforcement and to create the framework of a good match.  The field for each age group eventually narrowed and the more competitive matches were run like any sanctioned event.  The three players with USATT ratings in the 18U event ultimately were all semifinalists, as an example.  Everyone that did not place in an event received a participation trophy – a relatively inexpensive gesture that makes a real difference, especially to the smaller children.
The High School team event was designed in a 3-man team format.  We encouraged juniors at our club to locate friends from their schools to play with them in this event – adding an exciting wrinkle to their normal rivalries.  Basically, junior players were training friends (often in the club) in the days leading up to the tournament to help prepare their team – and then were able to take leadership positions on their teams coaching the other players and working towards a strategy.  The Finals matched La Salle Academy against Bishop Hendricken High School which happens to have also been the match up for the State High School Football championship game last winter.  Each team had one player with a USATT rating who plays regularly at our club, but then also had two other players who have not played the sport competitively.  When the two rated players finished their match, the real drama began…  and the result was great.  Cheering, clapping, high-fives, and an energy that we will hope to repeat in future years.
The High School championships also brought some media coverage – we struggle to have any mention of table tennis in the local news here.  We also made sure to create a larger team cup to provide to the winners in hopes of having the trophy on display at the high school.
From a revenue perspective this was a positive as well.  This was not a sanctioned event, so our cost was basically administration time and trophies. We charged $10 per entry and managed to make a few dollars on the day.  In addition, we had junior players coming on Saturdays for nearly 10 weeks practicing for the tournament and we expect to see additional interest from those juniors and some of their parents going forward.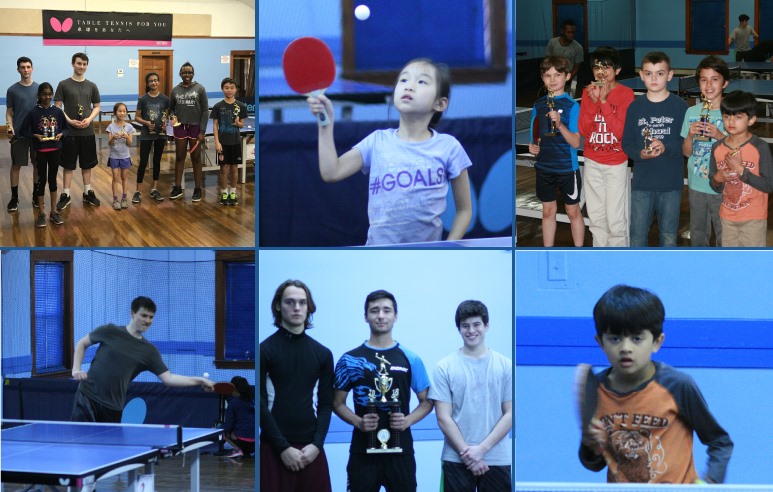 We also learned some lessons from making some mistakes this time.  The tournament happened to fall at the end of Spring Break for students locally, so some of the last minute reminders that we would have provided could not be sent through the schools.  That also affected a couple of the High Schools where other activities were planned that were in conflict with our event and reduced our numbers.  Another mistake was allowing too much time between events for the smallest kids.  When the first event finished at 10:15 for the 10 year olds, most left before the 12 and Under event at noon.  Some better planning could have lined events up in such a way that encouraged kids (and their parents) to stay and play in a second event.
We have some plans for the future to run other types of "extra events" for our club players.  We have not had a Rhode Island Closed in a number of years and we have not had a doubles tournament recently.  In both cases, we are potentially able to provide additional competitive opportunities for our existing club members while also reaching out to the community (of recreational players).
The more events we can run that bring people into the club and introduce them to the sport, the better.  Its a win-win for Rhode Island table tennis.
See below for results and photos from our Juniors and High School event.
Jared Farley of LaSalle Academy being cheered on by teammates in the final match of their win over Bishop Hendricken High School.
_____________________
RESULTS:
Results of Rhode Island Junior Championships:
High School Team Event: LaSalle Academy over Bishop Hendricken High School (2-1)
Boys Singles: (1) Ryan Silverman, (2) Liam Cannon, (Semifinalists) Josh Litmanovich and Sam Barmonyallan
Girls Singles: (1) Ella Nadukkudiyil, (2) Lakshana Ramanan
U15: (1) Ryan Silverman, (2) Ben Eng
U12:  (1) Ella Nadukkudiyil, (2) Lakshana Ramanan
U10:  (1) Alex Hopkins, (2) Parker Lewis