(By Joanna Sung)
From the age of six, I spent my days picking up table tennis balls at local clubs, watching the best players compete through a television screen, and playing table tennis with my dad in the basement. Now, I am seventeen. Through eleven years of involvement in the table tennis world, the sport evolved into not only a family hobby, but also a special part of my life that I became increasingly passionate about. Naturally, I encountered both mental and physical struggles along the way, and even considered quitting the sport, personally deeming myself "unfit" to be a table tennis player. However, my love for the exhilaration of competing in tournaments along with the people that table tennis brought into my life encouraged me to persevere through every obstacle I faced and eventually led me to where I am today.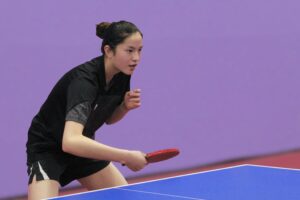 I faintly recall the first U.S Open I competed in along with the following day the tournament ratings were officially posted. My sister, Rachel, successfully finished with an impressive rating of 658 and myself with a comparably low rating of 148. Dumbfounded, I remember anxiously wondering why there existed such a huge gap between our ratings when we had both trained for equal periods of time with the same coaches. Upon searching the internet and recalling match records, I managed to familiarize myself with the standard rating system. In local clubs, tournaments, or leagues, everyone always judged fellow players based on their rating. For instance, in some extreme cases, people may refuse to play with lower rated players. As my interest in the sport increased, I became extremely fixated on my rating and constantly viewed the number as a label, a representation of my playing skill. In every tournament, the overwhelming pressure I felt to maintain my rating prevented me from playing to the best of my abilities. Nowadays, I'm able to freely play against players of all ratings without the pressure of maintaining or bumping my personal rating because I realized that a players' rating will never completely define their skills or worth as a table tennis player.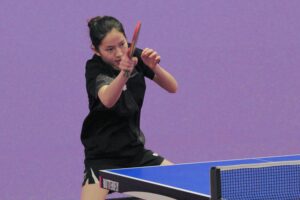 During the pandemic, I definitely struggled with maintaining as well as improving my table tennis skills. Being quarantined in a place for a prolonged period of time and fighting to maintain good grades made it seem impossible to find the time and energy to practice. Every night before bed, I told myself that I would start practicing the next day, but when the next day came, practice never happened. To inspire myself to pick up my paddle, I rewatched past matches I played to recall the feelings of excitement and thrill matches always brought. Moreover, having Rachel in the house with me also continuously reminded me how lucky I am to have such a higher level training partner constantly available. Recently, I finished fourth in the Under 19 National Ranking tournament, successfully maintaining my spot on the national team. While I failed to completely succeed in my goal of placing in the top three, I still felt extremely proud that I had managed to get back on my feet and continue to enjoy the sport wholeheartedly throughout the tournament. Through the pandemic, I rediscovered the joy of competing with numerous talented players and the delight of personal improvement regardless of others.
One last line. Let's keep playing.
Video of the Sung sisters practice here
Stay "In The Loop" with Butterfly professional table tennis equipment, table tennis news, table tennis technology, tournament results, and We Are Butterfly players, coaches, clubs and more.