"Dignics 09C" was released on April 1, 2020. This rubber, which has attracted the attention of many players as a sticky rubber with High-Tension sponge, has already been used by some of the top players such as Timo Boll (Germany) and has achieved good results. In this project, the top players who changed their equipment to Dignics 09C commented on the potential of this rubber. We have here Ovtcharov (Germany), who has announced an advisory contract with Butterfly in January and beat Fan Zhendong (China) at the German Open in the same month. Ovtcharov, who praises the Dignics 09C for "In the long term, this rubber will benefit all kinds of players." talked about the rubber's appeal.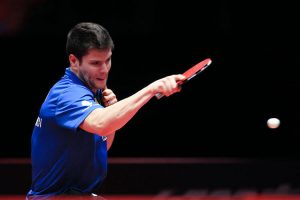 Ovtcharov (Germany)
Plays: Right-handed
Style: Shakehand Attacker
Titles:

2019 Europe Top 16 champion
2017 Men's World Cup champion
With a powerful forehand and backhand attack following a unique service, he has long been a German team member with Timo Boll. Powerful backhand from middle distances is very good.
"In the long term, this rubber will benefit all kinds of players."
Q. What issues did you face with equipment before using Dignics 09C?
A. With the equipment I used before, I could not return unless I found the correct racket angle according to the Spin of the opponent's ball. Then, with the change to plastic balls, various balls were released, and the Spin of the opponent's ball also varied, so I had to find for the correct angle every time.
If you start making mistakes in such difficult situations during a match, you will lose your movement and lose confidence. One after another, such a negative chain occurs. That was the problem.
Q. Why did you change to Dignics 09C?
A. I changed to Dignics 09C because I no longer need to search for the correct racket angle. The rubber does that.
Even if the opponent's ball rotates more or less, the rubber absorbs it, so you don't have to find the right angle. Just hit your stroke and the rubber will do the rest. This gives you great confidence in your game.
Q. How has your play changed?
A. You can play with confidence. Now I'm no longer bothered by "What will the other person do?" or "What should I do?" However, as long as you can do the right thing, you will have better control of the ball during the game, better ball direction, and more spin.
Q. Is there any technique that has increased the amount of spin?
A. Dignics 09C is a truly unique rubber. Since this rubber is sticky, the ball does not speed up on circumstances such as over the table, services, and receiving. This is great, as it allows you to control and adjust the length of the service and receive even under tension or pressure.
On the other hand, when hitting a topspin ball (counter), thanks to the Spring Sponge X and the sticky topsheet, the ball draws a high arc, and the amount of spin can be high, creating a high quality ball.
Two things can be done with this one rubber. It is a rubber that can hit a slow ball when you want to hit a slow ball, and can hit a fast ball when you want to hit a fast ball.
Q. Are there any techniques that have increased speed?
A. It is now much easier to do a strong topspin counter drive against all balls that have been spinning forward, especially if the opponent has been attacking with a slower, more spinning ball. Using the opponent's spin and adding your own spin to it, it feels like doubling the spin and accelerating.
If you hit the counter drive with another rubber, the ball will slow down when it cross the net, even if the initial speed is fast, but the way the ball of Dignics 09C is completely different. I think it creates a difficult ball for the opponent to handle.
Q. Are there any techniques that have increased stability?
A. The most stable is my technique over the table.
I have a good service, but when my opponent neutralizes the spin of my service and successfully receives, I get a lot of spin back and that ball is not easy to control.
With the Dignics 09C, since it is slow over the table I have the stability there to still control it. That's fantastic.
On the other hand, when someone does a heavy topspin, low, over the net with a high arc and sticky surface of the rubber I am still able to keep control of my topspin strokes. No matter where your opponent hits the ball with a heavy topspin, you can absorb the opponent's spin and return it short.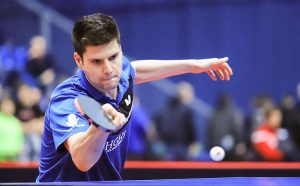 Q. Are there any techniques that are easier to control?
A. Basically all techniques. The Dignics 09C can be controlled easily because it is sticky and can hold the ball for a long time. If the ball hits the rubber and jumps out immediately, there is no time to control the ball. Obviously, the longer the dwell time, the better control you have. This is the biggest advantage of Dignics 09C.
Q. How has your counter drive changed?
A. I used to be good at counter driving before, but after switching to plastic balls, it became difficult to understand the amount of spin of the opponent's ball, and it was also difficult to generate spin, so the counter became difficult.
However, since I started using Dignics 09C, I was surprised that even if the response was slightly delayed, I could use 90% or 100% power to drive the counter. It's really fun now and I enjoy practicing.
Q. The quality of your loop drive has also improved?
A. I am very happy. If you take a look at the match with Fan Zhendong at the German Open, you'll see that his strategy was attacking my forehand in the first half of the match. He was surprised when I was able to counter off the bounce well on my forehand.
And he started aiming at my backhand, but I was good at backhand, so I was able to deal with it. So I felt his tactics didn't go the way he wanted and he was impatient.
Q. How far from the table do you find it easier to play with Dignics 09C?
A. Around middle distance (1 to 2 meters from the table), you can choose to utilize the opponent's power or hit it with your own power, and you can grab the ball with rubber, so the rhythm can be changed with a variety of spins.
From further distance, you are able to try various techniques without relying on power.
Q. Is there any technique that has become more difficult to play with Dignics 09C?
A. It is not "difficult", but for example, in the case of service, this rubber does not have much speed.
Previously, I had a problem that my service was long and my opponent could attack from my service.
When I just switched to Dignics 09C, my service was too short. Service practice is still ongoing and control is getting better and better. I can now apply more spins.
Now I don't have to worry about the service going long. I had to change the game tactics a bit, but in the long run I think it would be my advantage because the amount of spin could be increased.
Q. What kind of players do you recommend for Dignics 09C?
A. To be honest, in the long run I think it will be a benefit to all kinds of players.
The player who tries Dignics 09C for the first time can find the different feeling from the rubber he has been using, so I can imagine the hesitation and thought of "not suitable for me".
But I want you to spend more time. In particular, you should take time to evaluate the benefits in the game. There are many advantages with Dignics 09C compared to all the rubbers I've played so far, so I think it will benefit all players in the long run.
However, exceptionally, it will not be suitable for players who do not spin the ball or who use smash a lot. If you're a heavy smasher in the forehand or backhand, you might want to try a rubber like Tenergy 05 or Dignics 05.
Q. Do you think Dignics 09C is suitable for the forehand or backhand side?
A. I use this rubber on the forehand. I do not feel that I need rubber help because I am confident on my backhand.
If I use it on the backhand side, it might have an advantage in the long run, but I do not want to change before the Olympics. I have some problems with my forehand, so I find various benefits changing to Dignics 09C.
For example, if a player finds it difficult to control the ball at the important situations in the game, such as unstable forehand, unstable backhand, or difficulty in service return, it is better to change to Dignics 09C.
Q. What do you think was the reason that you beat Fan Zhendong at the German Open?
A. I think one of the reasons is that I was able to perform so that my weaknesses, which were known in the past, were almost eliminated; thanks to the Dignics 09C on the forehand.
Fan Zhendong is a wonderful player who basically has no weaknesses. Still, I didn't feel discouraged, and I think most of the points were 50/50. And in the end I was just a little luckier than him.
Beginning of this important year of 2020, I was able to perform brilliantly and build my confidence.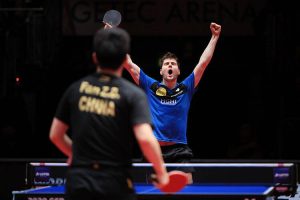 Interview video of OVTCHAROV:
(Interviewing = Table Tennis Report Editor @ Photo courtesy = ITTF)