Daily news from Toronto 2015
2015 Pan American Games
Courtesy of Table Tennis Canada
Table Tennis Canada is reporting daily news from the Toronto 2015 Pan American Games.
Daily news from Toronto 2015
The Pan American Games are finally here in Toronto. After a few month of hard practice, the Canadian Table Tennis Team is now ready for it to start. Every day we will report from the 2015 Games out of Toronto and share the excitement. 
Day 4 – July 22nd
Today we are introducing our Muscle Activation Therapist Bogdan Cojocaru.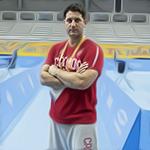 Bogdan Cojocaru – Muscle Activation Therapist: I believe that in any sport there is nothing better than working with the top athletes. I am grateful and excited to be the Strength and Conditioning coach for Team Canada at the 2015 Pan American Games.Table tennis is a particularly rewarding sport to work with and watch because is extremely fast and in the same time very precise. I can't wait to see Team Canada compete!  The team is ready and excited to bring their best to the table. I worked mostly with the men team and the quality of training was great, the support staff amazing and the athletes' effort fantastic.We had few minor injuries to overcome and with the help of Physiotherapist Gianni Mariani we were able to solve that part.
In the past few days Maxime Surprenant , the head coach asked me to work on bringing the team to a high level of focus and take care of a few last-minute conditioning needs. We had group workouts every morning and evening on top of the daily practice that sometimes was once, other times twice table tennis workouts/day. All the preparation went well and we are ready and excited to bring the best to table tomorrow in the team event.
Day 3 – July 21st
Coach Maxime Surprenant: Yesterday we faced the Brazilian team in the semifinals. This is a powerful team with 3 players with great international experience. This match was more difficult after our game yesterday against Argentina, a match full of emotions that was physically draining for our team. Even if the final score was 3-0 to Brazil, I am pleased with the effort of my players. They gave everything they had. We have the 4 coming years to improve and we raised our level to the Brazilians.
Day 2 – July 20th
After an amazing 3-1 win in the quarter finals against Chile, the Girls Team will be facing the United States tomorrow.
Anqi Luo: In the gym, the most amazing thing is the crowd! They were very very enthusiastic, and gave me a lot of confidence. Right before our match today I was nervous because I knew my singles match was very important, if I win it means we have 90% chance of winning the whole team match. What a match! I am satisfied with my performance, a lot of the sets were tight and I'm happy that I came through at the end.
For tomorrow Im not going to put pressure on myself, they are high level players and I really need to perform well. I AM READY!!!
Day 1 – July 19th

Mo Zhang: It is very Exciting when we play today. And in the first match I was a little nervous. But saw all the people charing for us I feel more confident. And play better and better. And I'm happy about today's results.
Alicia Cote: "Alicia: During my first single match, I was very nervous and I was playing very tense. But after the first set I calmed down and I came back in the game. I am very happy with my game even though I lost. At first I was nervous because of the crowd but then the crowd really helped me performed well and win my game twice!"