(Courtesy of ButterflyMag)
BUTTERFLY PLAYERS RIP UP THE SCRIPT AT THE GERMAN OPEN
What a week it has been in Magdeburg at the 2017 ITTF German Open, where players seemed to forget all about their rankings, and huge upsets became almost expected.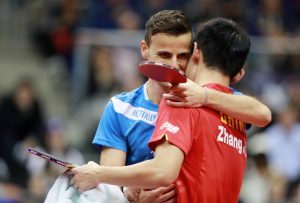 The first sign that the German Open wasn't going to go the way everyone was expect it to, was when fellow Butterfly players Tiago Apolonia and Zhang Jike met in the round of 32. Apolonia shocked the German fans by defeating the 2012 Olympic Champion in a dominant performance. It never looked like going the way of the Chinese legend as Apolonia cruised to a relatively easy victory. 4 – 1 (11-9, 11-7, 7-11, 11-9, 11-3)
Tiago Apolonia then faced another Butterfly player in the next round, Hong Kong's Wong Chun Ting. However, the Portuguese number two couldn't cause another upset and it was Chun Ting who progressed to the quarter finals where he lost to Dimitrij Ovtcharov. 4 – 2 (11-1, 5-11, 11-5, 7-11, 11-4, 11-3)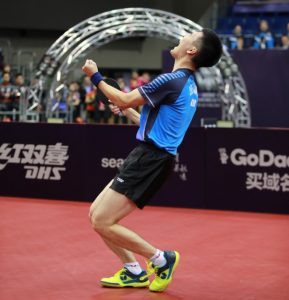 The next Butterfly player to cause a massive upset was Korea's Lee Sang-su in his quarter-final match against last month's world number 3, Xu Xin. In what has to the performance of his career, Lee Sang-su completely dominated the former world number 1, winning in straight sets. 4 – 0 (11-6, 11-9, 11-4, 12-10)
Lee Sang-su then met Timo Boll in the semi's. Boll had clearly carried the incredible form that he had shown at the recent World Cup into to the German Open. In the rounds prior to the semi-final he defeated Kristian Karlsson, Simon Gauzy and most impressively Lin Goayuan.  The match-up between the German and the Korean was not as close as many were anticipating. Timo Boll once again wowed his home fans, beating Lee Sang-su without dropping a set. 4 – 0 (11-4, 11-9, 11-4, 11-9)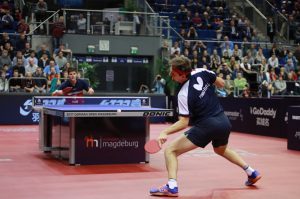 The final itself would be a repeat of the last month's World Cup Final with Timo Boll once again facing his German compatriot Dimitrij Ovtcharov. Both players traded games which led to a nail biting deciding 7th set showdown however It was Ovtcharov who would again clinch victory. 4 – 3 (9-11, 11-5, 11-9, 6-11, 11-7, 7-11, 11-6)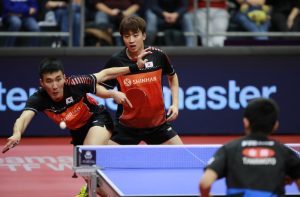 In the men's doubles event Butterfly pairing Lee Sang-su and Jeoung Youngsik were victorious as they defeated the Japanese Wonderkid Tomokazu Harimoto and Yuto Kizukuri in the final. 3 – 2 (8-11, 3-11, 11-5, 14-12, 11- 6). On their way to the final Harimoto and his partner notably took out the Chinese pairing of Fan Zhendong and Xu Xin, which is sure to give them some comfort in defeat.
For original article, please click here