Courtesy of ButterflyMag
Butterfly lines up various blades with special materials. But how did they come into creation? What research effort is behind the production of such blades? The Butterfly Research and Development Team tells the exciting history of developing blades that make the dreams of players come true.
Part One of our story deals with the creation of plywood blades and the development of special materials.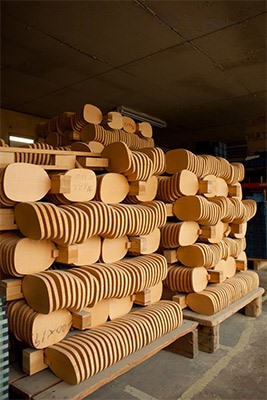 Firsts steps
Yusuke Iwase from the Butterfly Research and Development staff tells the story of blade development in the past: "The materials for blades used to be mainly one-ply wood (still used today for some one-ply penholder blades). In the pursuit of better quality and performance we settled into using plywood. We continuously selected better materials and kept researching with persistence in order to develop blades with quality and performance that would satisfy the world's top players."
The main goal at that time was the credo for the R&D team: "To add more power on the ball."
The era of CARBON – more power
First steps were made in that direction by developing material with more bounce by succeeding in shifting from one-ply to plywood blades. With adding even more power in mind, the staff started to turn their attention to a fibrous material called "carbon". (Note that "Bounce" denotes the height of a ball bouncing back from a racket. The more bounce, the faster the blade – when hitting the ball straight on.)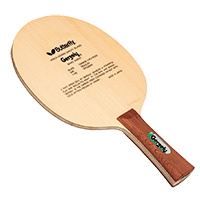 The ITTF regulations state "at least 85% of the blade by thickness shall be of natural wood, an adhesive layer within the blade may be reinforced with fibrous material such as carbon fibre, glass fibre or compressed paper." Looking at those regulations, Butterfly R&D experimented with a carbon-knit sheet between layers of wood.
Carbon is now applied in various fields as a light and strong material, but it was not widely used at that time. However, Butterfly R&D was particularly interested in the characteristics of Carbon – it was light, strong and gave blades a high rebound, exactly meeting the demands to add more power on the ball. Butterfly released their first TAMCA 5000 (Carbon material) blade in April 1978.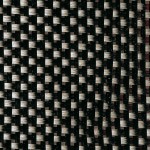 The prices of those blades were three to four times higher than conventional blades, so very few players used this innovative blade at first, but the characteristics attracted publicity due to the overwhelmingly high performance. The first blades of the GERGELY and SCHLAGER series were released, creating the credo among players:
"You should choose a carbon blade wif you wish to add more speed on the ball."
Until today, TAMCA 5000 remains a popular material used in production of Butterfly blades, such as the powerful Garaydia T5000, Primorac Carbon or Zhang Jike T5000.

Blades with TAMCA 5000 Fiber feature enhanced stability. T5000 blades are usually fast, direct and precise with a harder feel.
Trial-and-error for 14 years
After success of the Carbon blades, Butterfly R&D struggled to find a suitable development that would be the next blade with special material – it was tough to find a sheet that would have a good effect on a table tennis blade. Iwase thinks back about that time:
I hear the R&D team at the time tried hard to find a fiber appropriate for table tennis blades, but in vain. They conducted experiments each and every material including non-standard ones that could be regarded impossible, but they could not find a material that enabled the high performance players demanded. Many trials and errors were repeated, until the R&D team found a new material to focus on.
Along came Arylate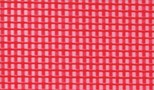 "Arylate" had a softer feeling than any other fibrous material Butterfly applied after this, and it's weight was only 75% of the weight of Carbon. High hopes were put on Arylate the first time it was used in a table tennis blade. The most distinctive characteristic of Arylate are shock and vibration absorption, it realized soft touch as well as high usability. KEYSHOT was released as the first blade with Arylate in November 1991, a blade with new material – after 14 years of research.
Arylate is still being used in blades today, such as the successful Innerforce AL blade. It provides a soft feel for the blade, with reduced vibration and a controlled touch.
1993 – Combining two classics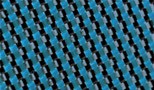 The next development was "Arylate-Carbon", produced by a woven combination of Arylate and Carbon fibers to unite both characteristics. Arylate-Carbon is a unique material of Butterfly, it generates a comfortable feeling by combining the soft feel of Arylate and the sheer bounce of Carbon – making blades with Arylate-Carbon provide high performance in all aspects of table tennis. VISCARIA released in 1993 and became instantly a most popular blade that is the basis for such successful and widely acclaimed blades as the Boll Spirit and Timo Boll ALC.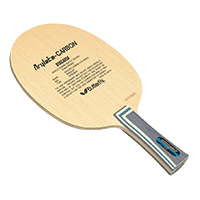 Repeated trials by world class players from the Butterfly advisory staff had a significant effect on the development of Arylate-Carbon. R&D members of Butterfly think the feelings of players themselves is very important information in order to provide good blades to players. Trial hits are continuously done to develop new equipment even today. VISCARIA became popular and was used by Timo Boll (GER) and Michael Maze (DEN) from the beginning of its release and upgraded the value of blades with special materials. It brought a huge change of the concepts of blades.

From ULC to ZLC
The creation of TAMCA ULC, following Arylate-Carbon opened up new possibilities. ULC was 18% lighter compared to TAMCA Carbon and suited a specific player the most: Kalinikos KREANGA (GRE).

Iwase reveals that Butterfly had been working on yet another breakthrough in the meantime: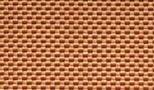 "Actually, we had started the development of "ZL-Fiber" at the same time, but adopted it later on. We aimed to provide unprecedented quality and meet more requests from more players by using "ZL-Fiber".
Iwase explains the characteristics of ZL-Fiber and ZL-Carbon, which was adopted later by combination of ZL-Fiber and TAMCA ULC: "ZL-Fiber is a material similar to Arylate, but is lighter and has more bounce. In addition, it has the summit-level bounce and best lightness among organic fibers. "ZL-Carbon" was generated by weaving ZL and Tamca ULC fibers – resulting in even higher bounce. By achieving this combination, we developed better material with better performance." A breakthrough.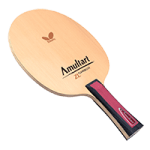 Original blades using ZLF and ZL-Carbon are the PHOTINO and the AMULTART released in 2007. ZL-Carbon gathered attention not only in table tennis, but worldwide, a material produced by Butterfly for the first time in the world. ZL-Carbon blades are light in weight, fast in play and feature a feeling similar to all-wood blades. Many players use them regularly.
Zhang Yining (CHN) and the Innerforce-Layer series
Butterfly blades used to be classified into two categories: Blades with special material and all-wood blades, where the first had a higher bounce and the latter felt easier to control during rallys. Some players distanced themselves from special materials to conserve the feel of their all-wood blades.

Zhang Yining (CHN) was a Butterfly representative who had won many titles including Olympics and World Championships. She was dominant at the time but started reconsidering her equipment after losing at the World Championships 2007: She looked for more power on her blade. At the time she was using an 5-ply all-wood blade for a long time when the Butterfly R&D team recommended a so called "Inner-Fiber" type blade which was still in development.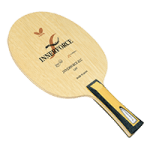 These blades were produced by setting the special material fibers next to the core of the blades, moving them away from the blade's surface. Doing so, the blades exhibited more power, without losing the feel of an all-wood blade. Iwase recollects her correspondence with Zhang Yining at that time:
"She wished such a blade that had more power for the third and fourth attacks and could score a point while keeping the feel and thickness of an all-wood blade. We provided her an "Inner-Fiber" blade with "ZL-Carbon" fibers to achieve these characteristics and fit to her style of playing."
Using this blade, Zhang Yining became World Champion (2009) and won the Gold medal at the Olympic games (2008). Her success proved that developing equipment to the needs of players and valueing their feedback was the right way of development for Butterfly.
Latest Step: Super ZL-Carbon
Following the path, Butterfly's next invention was called "SUPER ZL-Carbon". Mizutani Jun Super ZLC was released in July 2014, following Zhang Jike Super ZLC. But what is Super-ZLC and what does it do?

Iwase explains the steps of development: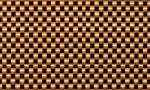 "We tested performances of various materials alongside our development. Among them, some had similar properties to with current special materials, but they were just not good enough when applied to blades. Then, with our traditional style of development, we decided to proceed with the concept of enhancing existing materials. The first result is "Super ZL-Carbon", furthering the characteristics of "ZL-Carbon". We increased the density of the material, using more material with the same fiber. The molarity 1.8 times the density of existing ZL-Carbon, at it became heavier, too. However, the change yielded higher bounce and a wider "reaction area" than ZL-Carbon, bringing further evolution in table tennis blades."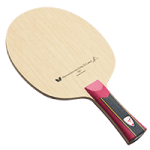 Super ZL-Carbon yielded higher properties than any other material in the past. The introduction of blades with this special fiber, however, was accomplished after overcoming many hurdles.
"It is difficult to interweave different fibers. Super ZL-Carbon is strong and has higher density, so we needed more advanced processing technique than before. In fact, the new fiber was so strong, that the R&D team had problems processing it into the shape of a blade. The high-strength cutting knife became frazzled after a few cuts of the material."
Overcoming these issues, Butterfly followed its desire to produce better equipment for players, a goal set continuously for more than 30 years.
Find out how blades were tailored to professional players, and what they say about the equipment they use in Part II.