2017 Butterfly Arnold Table Tennis Challenge: New Year New Elements
2017 Butterfly Arnold Table Tennis Challenge: New Year New Elements
By Barbara Wei, Bowmar Sports Staff Writer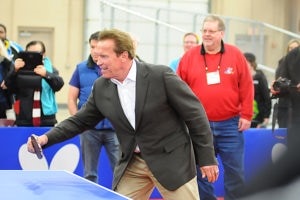 The 2017 Arnold Table Tennis Challenge presented by Butterfly is an annual 4-star table tennis tournament held in conjunction with the world famous Arnold Sports Festival on Columbus, OH. With more than $10,000 in total prize money awarded in over 30 events spread over three days, the Arnold Table Tennis Challenge is one of the largest tournaments in the US.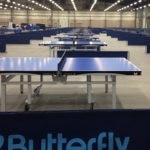 This year's competition will be held in the same world class location as 2015 & 2016 (the Ohio Expo Center) in a 70,000 sq. foot space with 50+ Butterfly tables, Gerflor (red flooring) on 24 courts, fully barriered tables and Olympic level lighting. Live streaming and media coverage will be provided by Butterfly throughout the weekend.
In addition to world class and professional table tennis competition, players entered for the Arnold Table Tennis Challenge can expect to experience the energy and excitement of the world famous Arnold Sports Festival, which brings together competitors and spectators from around the world. Table tennis competitors will be able to access all other sporting events including gymnastics, cheerleading, jump rope, body building, swimming among many others.
New elements for this year's Butterfly Arnold Table Tennis Challenge include a coaching clinic by Samson Dubina on the night before the tournament ($50 or free if competing in 5+ events) and an NCTTA Alumni Team event for current/past collegiate players. Finally, to show appreciation for the community of table tennis players, all competitors will be invited to a free pizza party at the close of competition on Saturday with a cash bar.
To learn more about table tennis at the Arnold Sports Festival please visit www.arnoldsportsfestival.com.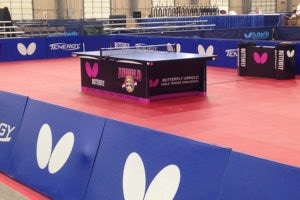 Entries for the 2017 Butterfly Arnold Table Tennis Challenge are accepted until February 20th. To enter and be part of this magnificent event, please visit www.arnoldtabletennischallenge.com or contact Ed Hogshead at ehogshead@landmarkbilling.com.
Continual coverage of the 2017 Butterfly Arnold Table Tennis Challenge and stories about the athletes will be available at ButterflyOnline.com, or via Butterfly North America's Twitter and Facebook pages.