Ask The Experts: Rachid El Boubou
Ask The Experts: Rachid El Boubou
Butterfly Table Tennis Question and Answer
Question:
The backhand loop. Should the stroke be forward and up (concave) Or like the forehand loop up and forward (convex)?
Also, should the blade be open or closed?
Answer: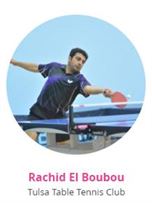 This Ask the Experts question was answered by Rachid El Boubou. He is a Coach at Tulsa Table Tennis Club and his response is as follows:
Richard,
Regarding your question on the backhand loop, all of the new style players are leaning towards the forward and straight and then it depends on the ball –
 If it's underspin then you should use the concave style, but if the ball is topspin then you can hit it forward and straight with a close blade position for power.
Best of luck!
Coach Rachid El Boubou