Ask The Experts: Nan Li, No. 197
Ask The Experts: Nan Li, No. 197
Butterfly Table Tennis Question and Answer
Question:
I am currently playing with an all wood blade and want to switch to a wood/composite blade.
I recently played with a friends Spintech Carbon Gold blade 4 ply wood 2 ply composite $249. I found it to be superior, lighter, faster overall better feel than my all wood 7 ply blade. However, this blade was developed many years ago with no current user reviews?
When I research the various wood/composite blades I find a large disparity in blades and price.
In an effort to simplify the selection I am limiting my search to one brand, Butterfly. For example there are three wood/composite blades that I am interested in. Viscria, 5 ply wood 2 ply composite $159.95.
Timo Boll ZLC 5 ply wood 2 ply composite $266.99.
Timo Boll ZLF 5 ply wood 2 ply composite $226.99.
All three blades are 5 ply wood 2 ply composite with a significant price range.
Reviews from users are not helpful as they vary widely, inconsistent and contradictory.
If I would play with each of these blades with the same rubber, not knowing the name, would I notice a significant difference.
Answer: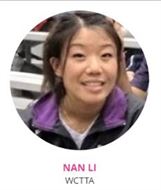 This Ask the Experts question was answered by Coach Nan Li. She is one of the coaches at the World Champions Table Tennis Academy in Santa Clara, CA. Coach Li's response is as follows:
Hi Richard,
 Thanks for your question and interest in Butterfly equipment.
 The blades that you mentioned (Viscaria, Timo Boll ZLC and Timo Boll ZLF) are all different in weight, hardness and speed.
 I recommend for you to change to the Timo Boll ZLF blade. This blade is light in weight because of the ZL fiber and provides you with a great overall feel. The blade is around medium feel for the hardness of the wood.  It is fast but still with great control.
 Hope you find this helpful and enjoy your new equipment.
 Best,
Nan Li
Coach @ WCTTA
www.tt-champions.com