Ask The Experts: Jon Ebuen
Ask The Experts: Jon Ebuen
Butterfly Table Tennis Question and Answer
Question:
Hi, I bought Tiago Apolonia ZLC couple of months ago and pasted 05 on FH & 80 on BH. Compare to my current setup it was very fast buy some how I managed to play on FH side but BH was not in control and was very fast only pushes were good, I know may be it's a technique problem. Unlucky I trade my lovely lovely setup and switched to old one which I have mentioned in details. I want to play on with Butterfly products. All my friends are saying that I did a mistake to sold my TA ZLC. They are saying that rather to sell I should have change the rubbers to slower version and I am also feeling bad. What do you guide me to buy 1. Timo boll ALC, 2. Timo boll spirit or 3. Again buy Tiago aplonia ZLC ? As I have heard that TBS has a very good control with speed and what is the difference in if I buy TB ALC if it is faster than TBS may be I'll not buy. I am a offensive player and want control, push, loops and topspins in my game. So what do you guys recommend ? Kindly put me out this situation and I'll be very thankful to you team. Waiting for your reply impatiently. Also what rubbers do you recommend for me ? With at lest 4 options if u can. I play close and mid distance.
Answer: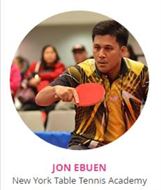 ThisAsk the Experts question was answered by Jon Ebuen. He is the head coach at the New York Table Tennis Academy in New York, NY. Coach Ebuen's response is as follows:
Hi Vishal,
 Thank you for playing with Butterfly.  
 If you are really looking for control, I would highly suggest Timo Boll Spirit with the combination of Tenergy 05 on your forehand and Tenergy 64 on your backhand.  I think you'll find more control in the Timo Boll Spirit than the Timo Boll ZLF.  
 Good luck with your game and keep working hard.  
Jon Ebuen
New York City Table Tennis Academy
www.TheTableTennisAcademy.org
212.535.3553