Ask The Experts No. 202: Changwoo Lim
Ask The Experts No. 202: Changwoo Lim
Butterfly Table Tennis Question and Answer
Question:
I have the table Yoshida Kaii with rubber Rozena and I am excited to change the blade for the Chinese Real that has approx. 1 mm thick; the yoshida kaii is 7W and the real chinese 5W.
I will appreciate if you can clarify what implications this change of blade has in the game, keeping the rubber … is the speed improved? improves the spin? or, the change would have very little effect on the game …
I can clarify that I am an intermediate level player who is taking up this sport after many years.
I appreciate any guidance you can give me.
Jorge Rojas
Answer: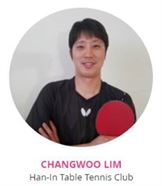 This Ask the Experts question was answered by Changwoo Lim. He is the coach at Han-In Table Tennis Club in Palisades Park, New Jersey. Coach Lim's response is as follows:
Hi Jorge,
It's good to hear that you are taking up the sport again after many years.
The Chinese Real blade is indeed thicker than the Yoshida Kaii CS by 1mm as you mentioned. Ordinarily, if the composition of the wood of two blades are the same, the thicker blade may be viewed as having more speed and power. On the other hand, the thicker blade will be heavier. If you are unable to generate the same swing speed as you had with a lighter blade, it's possible that the increase in weight from the blade thickness might not be enough to compensate for the decrease in racket head speed. In that case, the overall force applied to the ball might be lower with a thicker blade than a thinner one, and you wouldn't notice more powerful or spinnier shots. However, in the specific case of Yoshida Kaii vs Chinese Real, the Chinese Real is thicker but has a less dense wood composition than the Yoshida Kaii. Both blades are designed for a quick offensive game, but their difference in weight of more than 10 grams is likely to be felt in your hands. The Chinese Real is also a bit softer. The result is that you should be able to generate a bit more feeling and spin on your shots while the increased swing speed from the lightness may allow your ball speed to not suffer.
As for the rubber, Rozena is very versatile, and I recommend you keep it initially when changing blades. That way you can compare directly the two blade characteristics without having an additional unknown contribute to potential changes in performance.
If you feel you would be able to control more speed and spin after changing blades, you may consider the Tenergy 05 as an upgrade in rubber.
 Coach Lim