Ask The Experts: Wenting Zha, No. 198
Butterfly Table Tennis Question and Answer
Question:
Thanks for helping me out as there are so many choices out there for blade, rubbers, and sponge hardness and thickness.  Hence my interest in looking at what you think is best for me using a Butterfly blade and rubbers as previously I had a Primorac FL blade and Butterfly is noted for high quality table tennis products plus excellent consistency.  My budget would be about $500 give or take.  My FH and BH style is all around in style (not emphasizing defense or offense) and would prefer different rubbers for FH and BH as opposed to using the same rubbers for both, playing close to mid range to table, and intermediate playing level.  What I hope to gain is a blade which feels as good as my blade by Charlie and rubbers which match well to the Butterfly blade chosen, and of course match my style of play.  Life is good when playing table tennis!
Jim
Answer: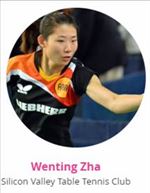 This Ask the Experts question was answered by Wenting Zha. She is one of the coaches at the Silicon Valley Table Tennis Club in Milpitas, CA. Coach Zha's response is as follows:
Hi Jim,
Thank you for your inquiry and I will be happy to assist you.
 Based on your information, I suggest the Zhang Jike ALC blade and Tenergy 05 FX on the forehand side and Tenergy 64 on your backhand. This could perfectly match what you need.
The blade Zhang Jike ALC is a model with Arylate-Carbon, which makes the high reaction and control possible. It is recommended for the player who seeks a balanced powerful attack while maintaining ease of use.
Tenergy 05 is the most popular rubber in the world. With the new-technology, Spring Sponge, which is produced by the unique format of air bubbles within the sponge and the thin pimples of the highly flexible surface, it enables dynamic topspin play with heavy rotation. Tenergy 05-FX offers the same top-sheet as Tenergy 05, but with a softer sponge layer and is best-suited for offensive all-round play.

On the backhand side, I highly recommend Tenergy 64 which is the rubber I have been using for many years. It is the fastest of the Tenergy rubbers and offers more flexibility and a softer touch, enabling powerful and precise attacking strokes from mid distance.
 Hope you find the information helpful and wish you a happy new year!
 Best regards,
 Wenting Zha