Ask The Experts: Wenting Zha, No. 175
Butterfly Table Tennis Question and Answer
Question:
Hi. I am looking for advice on pimples. Can you please suggest a good short pimple in butterfly for backhand. I have a good backhand and am strong in push and block. Forehand I do a slow top spin and try to get into playing more counters. Can you advise if my blade is correct or do I need to change that as well. I feel Nittaku pimple has good deception but is hard to play with and not good for rallies
Blade: Innerforce layer ALC
Forehand Rubber: Tenergy 05
Answer:
This Ask the Experts question was answered by Wenting Zha. She is one of the coaches at the Silicon Valley Table Tennis Club in Milpitas, CA. Coach Zha's response is as follows: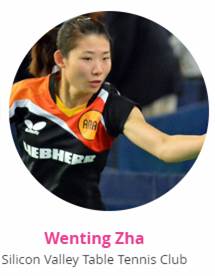 Dear Swetha,
 Thanks for the information!
 I think you already have a great blade that suits your demand, while on the backhand side I suggest that you may like to try the Speedy P.O. , which is a well-balance short pips rubber.
 Hope you will have a great experience with the new product!
 Best wishes,
 Coach Wenting Zha