Ask The Experts: Truong Tu, No. 225 Butterfly Question and Answer
Ask The Experts: Truong Tu, No. 225
Butterfly Table Tennis Question and Answer
Forehand Rubber: Tenergy 05
Backhand Rubber: Tenergy 05
Question: Please help me choose between the butterfly Viscaria and the Innerforce layer ZLC . I am a mid-distance looper. Please compare the speed, control, spin, dwell time, flexibility of these two blades. Will the inner force ZLC lack power because it has two layers of softer limba as the outer ply? Which should I choose for mid distance looping?
Answer: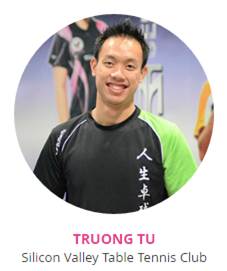 This Ask the Experts question was answered by Truong Tu. Truong plays at the Silicon Valley Table Tennis Club in San Jose, CA. Coach Tu's response is as follows:
Hi Narendran,
Thank you for your question –
· Speed: The Viscaria has more speed than the Innerforce Layer ZLC since the 2 Arylate/Carbon layers are placed closer to the outside
· Control: Innerforce Layer ZLC has more control than Viscaria since the 2 wooden layers are closer to outside providing a softer feeling.
· Dwell Time and Spin: Since Innerforce Layer ZLC has softer feeling with the 2 wooden layers placed near the outside, it has more Dwell Time which will lead to more Spin than the Viscaria.
· Vibration: However, with the vibration for Viscaria (10.3) more than Innerforce Layer ZLC (9.5), you will have more feeling of the ball hitting the wood on the Viscaria.
Both are great for mid-distance loop style, however if you would like a little more speed with aggressive style then the Viscaria is the choice; if you would like more spin with control style then the Innerforce Layer ZLC is ideal.
Best of luck!
Coach Tu