Ask The Experts: Sung Soo Jung
Butterfly Table Tennis Question and Answer
Question:
Hello,
I am struggling to find a blade that suite both my forehand and backhand. The timo boll alc suite my forehand really good but not my backhand. I have tried another blade «stiga clipper wood» and i Had Really good control with backhand but then my forehand felt wrong. I couldn't Draw a good arc with it. I am wondering if you have a suggestion for What blade i Can try to get a better feeling in both backhand and forehand.

And i understand that it Has a lot to do with my technique but my backhand hit the Table a lot more times with the clipper wood then it did with the timo boll alc. And my forehand hit the Table more times with the alc then the clipper wood.
I just want to Add that the quality of the alc is way better then the clipper wood and i am Really supeised How Well it Can take a hit…
Sorry for bad english. I'm from norway….
Answer: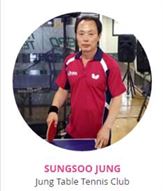 This the Experts question was answered by Sung Soo Jung. Coach Jung is the head coach at the Jung Table Tennis Club in Los Angeles, CA and his response is as follows:
Hi Robin,
I would recommend for you theTimo Boll ZLCwhose reaction is less than the Timo Boll ALC, but with a higher vibration. You can control better with a ZLC and your hand will feel the difference while hitting the ball.
In order to efficiently rally with a good backhand and forehand, hand-foot coordination skill is required. This skill can be attained by practicing. Try to practice hand-foot coordination by alternating your hand movement from backhand block to forehand stroke and then back to backhand block and so on simultaneously alternating your foot position from backhand to forehand.
Practice enables you to attain the skill needed to reach the level you desire while a good paddle will enhance your performance.
Good luck!
Coach Jung