Butterfly Table Tennis Question and Answer
Question:
I am using Timo boll ALC with Tenergy 05 on forehand and backhand.
Looking to move to DIGINICS 09C. Along with looping / topspin will this rubber be good at returning server and chopping the ball back when its on the table. Tenergy pops up the ball sometimes when chopping.
Blade: Timo Boll ALC
FH: Tenergy 05
BH: Tenergy 05
Answer: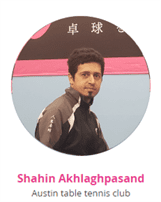 Hi Anujan,
 The Arylate/Carbon material is designed for offensive players who also need control.
 The Timo Boll ALC is an amazing blade, but Tenergy 05 is mostly designed for looping and attacking because the top sheet is not that hard.
 However, I was surprised by Dignics 09C because you do have a lot of control over the ball. Due to its stickiness, Dignics 09C gives you the confidence attack with control at the same time.
 Dignics 09C will be a great combination for looping and chopping in your game.
 All the Best!
 Coach Shahin