Ask The Experts: Shahin Akhlaghpasand, No. 320
Butterfly Table Tennis Question and Answer
Question:
Hello. I need your help and advice on choosing Butterfly gear. I have been playing table tennis for 35 years. I'm 48 years old. I am still active and playing 3 leagues in my own country. So far, I have played with clear wood planks and soft tires, but I have the impression that I lack strength and sharpness in my strokes. I play attacking style. I would be grateful if you could help me with the choice of my new Butterfly gear considering my age and everything I've written before. Is it too fast and too fast for me Timo Boll ALC and Zhang Jike ALC. Or else the fleas might be Apolonia ZLC or Harimoto Innerforce ALC … Please for advice on which board and tires to buy. Thank you in advance. Sports greetings.
Answer: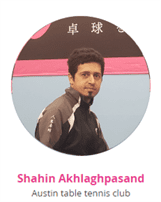 Hi Sasa,
I think from the woods you mentioned, I agree with 
Timo Boll ALC
. It will be faster for you at first, but you will adapt to it over time. The ALC wood with high control capability is for attacking players that cover both off the table and near the table.
For the rubber, if you really like the soft feel, then stay with your FX version. Otherwise, I recommend 
Tenergy 05
 on your forehand and 
Tenergy 64
 on your backhand.
Thanks and regards,
Coach Shahin