Ask The Experts: Rachid El Boubou, No. 306
Butterfly Table Tennis Question and Answer
Question:
Hi I'm currently ranked around the 20th mark in England my blade is the Viscaria with Tenergy 05 on forehand and backhand I find the backhand is not fast enough for me I want a more direct rubber where the throw angle lands deeper on opposite side for aggressive dominant play maybe with a hard ish feel thinking of Dignics or Tenergy 64 any preferences guys thank you
Answer: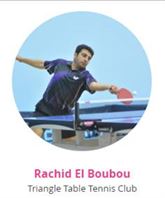 This Ask the Experts question was answered by Rachid El Boubou. He is a Coach at Triangle TT and his response is as follows:
Lee,
Thanks for your question!
I prefer to play
Tenergy 25 FX
(2.1 mm) on the backhand. It has a softer feeling when backhand looping and is good at blocking. I have played with this rubber for 12 years and I still feel it is the best for me; a very good rubber.
Usually, most play with a softer rubber on the backhand than the forehand which is why I recommend this rubber. You will see the difference! 
Thank you, 
Coach Rachid