Ask The Experts: Rachid El Boubou, No. 259 Butterfly Table Tennis Question and Answer
Question: I want to change my racket for a Butterfly racket, but it has to be similar like my racket (Neottec Gamma Seven). What blades and what rubbers i should buy?
Answer: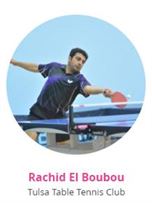 This Ask the Experts question was answered by Rachid El Boubou. He is a Coach at Tulsa Table Tennis Club and his response is as follows:
Hi Manuel,
The 
Primorac
 blade without carbon is very similar to the Gamma Seven blade.
It is  very good for beginners because its wood allows the ball to stay on the racket longer, which helps you serve longer providing good feel and control.
My advice is to use this blade at the beginning. I used it for several years.  
Best of luck!
Coach Boubou