Ask The Experts: Rachid El Boubou, No. 220
Butterfly Table Tennis Question and Answer
Question:
Blade: Viscaria
Forehand Rubber: T05 1.9
Backhand Rubber: T64 1.9
1. I want to know which rubbers are fit for my Viscaria.
2. I am considering changing blades. Don't know the difference between Mizutani ZLC and Innerforce ZLC.
I used T05 1.9 mm on my forehand and T64 1.9 mm on my backhand. I feel the forehand is not very fast and the back hand is not very spin. Could I change the rubbers on both side to 2.1 mm? I found the arc generated by T05 is very short? May I switch to T80?
I am good at controlling and rallying. I am not good at kill shot and like to borrow strength to control the ball left and right. Which blade Mizutani ZLC or innerforce ZLC do you recommend? I still like my Viscaria. It is very good at backhand and very fast. But the forehand is not very spin. I would like to find a blade as fast as Viscaria with higher spin than viscara.
Answer: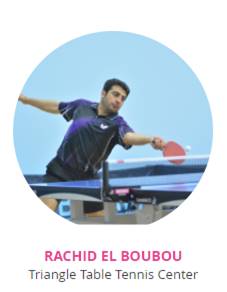 This Ask the Experts question was answered by Rachid El Boubou.
Hi Shaun,
I prefer to play with Tenergy 05 2.1 mm on my forehand andTenergy 05 FX 2.1mm on my backhand because the 2.1 mm sponge has more power and control at the same time.
The difference between theMizutani Jun ZLC and the Innerforce Layer ZLC is that the Mizutani Jun ZLC is faster and has less control.
I prefer you to stay playing with the Viscaria; very comfortable blade, lightweight carbon and more control.
All the best!
Coach Boubou