Ask The Experts: Nan Li, No. 180
Butterfly Table Tennis Question and Answer
Question:
Blade: TAMCA 5000
Forehand Rubber: Tenergy 05-FX
Backhand Rubber: Energy 64-FX
I am a block player. I am NOT a topspin player at all. I wish I can become one, any suggestions?
I am willing to change anything or listen to any suggestions.
Answer: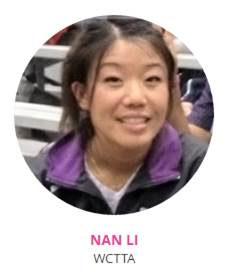 This Ask the Experts question was answered by Coach Nan Li. She is one of the coaches at the World Champions Table Tennis Academy in Santa Clara, CA. Coach Li's response is as follows:
Hi Charles,
 Thanks for your question and interest in Butterfly equipment.
 I recommend for you to change to a slower blade such as the Butterfly Petr Korbel blade, which would be helpful in generating spin as it would provide you with more control.  I would also recommend playing this blade with Tenergy 64 on both sides.  This combination should help you generate spin better.
 Hope you find this helpful and enjoy your new equipment.
 Best,