Ask The Experts: Min Kim
Butterfly Table Tennis Question and Answer
Question:
I am trying to buy a Primorac Carbon blade with Rozena rubbers, but I have some questions:
1) If this a good combination for an intermediate player? or there is a better recomendation for me, considering that my maximum budget is $240.
2) About the thickness of the Rozena rubber (1.7, 1.9 or 2.1 mm), I am not sure about what should I choose.
3) I want the racket assembly, shoul I include in the shopping cart the side tape or it is included with the assembly? In case I have to include it, what width should I choose?
Answer: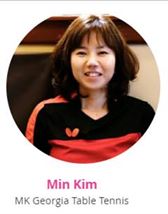 This Ask the Experts question was answered by Min Kim. She is the coach at MK Georgia Table Tennis in Duluth, Georgia. Coach Kim's response is below:
Hi Humberto,
The combination of the Primorac blade and Rozena is fairly good, but for an intermediate player, it is better to combine Rozena with Viscaria or Timo Boll ALC. You can consider to change only rubber, Rozena to Tenergy 05when your skill has been improved. Rozena is cost effect rubber but Tenergy 05 is better for speedy and strong spin playing.
If you prefer to play drive, Rozena 2.1 is recommended and Rozena 1.9 is good for an attacker near the table.
Side tape is not included in the assembly.
Best of luck!
Coach Kim