Ask The Experts: Jun Gao
Butterfly Table Tennis Question and Answer
Question:
Im a c-pen player, just started playing table tennis for 2 years now. I am thinking to switch to butterfly c-pen blade. My playing style is like Wang Hao, please kindly suggest which blade and rubbers setup i should use.

Thanking you kindly.
Answer: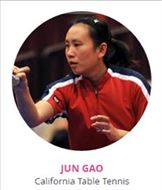 This the Experts question was answered by Coach Jun Gao. She is the head coach at California Table Tennis in Rosemead, CA. Coach Gao's response is as follows:
Hi Ning Zan,
Having played two years, I would suggest the Hadraw VR-CS combined with Rozena 2.1mm.
The Hadraw VR has very good control and power and the rubber also has good spin and power.
Best wishes!
Coach Gao