Ask The Experts: Jun Gao., No. 203
Butterfly Table Tennis Question and Answer
Question:
My son is 13 years old playing table tennis from 4 years.
Want to change his equipment. Which blade and rubbers he should go for he is no 2 ranked in his state.He has controlled game attacks from both backhand and forehand.
Answer: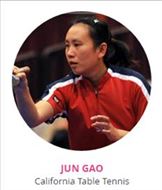 Your Ask the Experts question was answered by Coach Jun Gao. She is the head coach at California Table Tennis in Rosemead, CA. Coach Gao's response is as follows:
Hi Sumit,
I would suggest changing to the Viscaria with Tenergy 05 FX for the forehand and Rozena for the backhand.At age 13, he will need to use a little bit faster and harder blade with medium hard rubber to help his power and speed.Best of luck!Coach Gao