Butterfly Table Tennis Question and Answer
Question:
Hi, can I ask you for advance what rubber to use on my backhand (I have used 09c about an year)? Most of my strokes on backhand are blocks, drivers and still trying to improve my backhand top spin. I want the rubber be maximum spinny (ds05,t05,t19). Thank you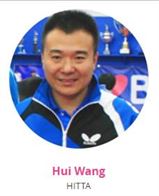 Answer: 
Your Ask the Experts question was answered by Hui Wang. He is a coach at Houston Int'l Table Tennis Academy in Katy, Texas. Coach Wang's response is as follows: Hi Bonji,  Thank you for your question.  I recommend you try Tenergy 05!  It is hard and powerful. It is spinny and fast and good for attacking.   
Good luck!
Stay "In The Loop" with Butterfly professional table tennis equipment, table tennis news, table tennis technology, tournament results, and We Are Butterfly players, coaches, clubs and more.