Ask The Experts: Hui Wang No. 282 Butterfly Table Tennis Question and Answer
Question:
Hi there, Hope you are fine! I am a big fan of the butterfly world and I like purchasing my equipment from them. I would like to ask you about how could I know if I am playing the backhand properly because I feel myslf not playing it as it supposed to be. In addition, I need to know the mechanism of playing the backhand so I become able to do it easly. I hope you help me and provide me with any resources which can help me develing the backhand mechanism. Thank you for helping me and looking forward to hearing from you soon. Riyad,
Answer: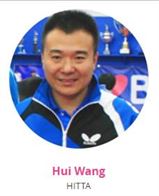 Your Ask the Experts question was answered by Hui Wang. He is a coach at Houston Int'l Table Tennis Academy in Katy, Texas. Coach Wang's response is as follows:
Hi Riyad,
First of all, you need to have a good ready position from backhand side, both knees bent down, lean the body forward, keep the hand over the table, elbow down, when the ball coming to your side follow it to do the forearm backswing, then try to hit the ball forward. 
Hope this will help you. 
If you still do not understand you can search some videos online. 
Best of luck!
Coach Wang