Ask The Experts: David Zhuang, No. 224
Butterfly Table Tennis Question and Answer
Question:
Hi, I want to update my racket to new one with butterfly only. I am always playing near the table. I am Para Table Tennis Athlete. 
1. I am willing to use Feint Long II OX instead of Milkay way. is it ok ?
2. Which blade is useful for me with Feint Long II OX ?
3. Which rubber should I use for Forehand?
It will be more helpful for me if you suggest me the best solution.

Thanks in advance.
Vaishnavi Sutar
Answer: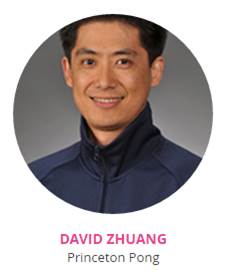 This ask the Experts question was answered by David Zhuang. He is the head coach at Princeton Pong in New Jersey. Coach Zhuang's response is below:
Hi Vaishnavi,
I would suggest the following racket:
· Blade – Viscaria
· Forehand – Red Tenergy 80 2.1mm
· Backhand – Black Feint Long II 0.5mm
Best of luck!
Coach Zhuang