Ask The Experts: David Zhuang, No. 179
Butterfly Table Tennis Question and Answer
Question:
Hi,
I currently have Yasaka Mark V on FH and Rakza7 Soft for BH but I found Rakza to be too jumpy even if I use it for FH. So, I am switching to butterfly and wanted to know: 1) What Rubber should I use to generate a ton of spin for my serve + forehand attacks? 2) What rubber should I use to have great defence+control, while not compromising for my BH speed+power? and finally, what blade(s) do you recommend to be in harmony with your suggesting rubbers ?
Thanks.
Fario
Answer: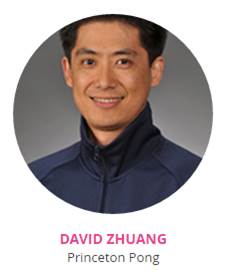 This ask the Experts question was answered by David Zhuang. He is the head coach at Princeton Pong in New Jersey. Coach Zhuang's response is below:
Hi Fario,
 Tenergy 05 is the best rubber out there that can generate the most spin.  If you want more control on the backhand but less spin and speed, you can't go wrong with the Classic "Sriver". 
 I'd recommend the Innerforce Layer ZLF blade with black Tenergy 05 2.1mm on the forehand, and Sriver red 2.1mm on the backhand.
 Best wishes!
 Coach Zhuang