Ask The Experts: Changwoo Lim, No. 178
Butterfly Table Tennis Question and Answer
Question:
Hi. My name is Cole. I have been playing ping pong for 3 years and want to upgrade my equipment. However I do not know a whole lot on choosing the right blade and rubber. I do not have an overly aggressive play style and I do not have a defense style either. I play heavy spin on my serves. While volleying I try to hit hard when I see the opportunity but I like speed and spin. I have the Killer Dpin Jet800 at the moment. I really like the paddle however the blade is really beatened up and I want to get a new blade and runner and put it together. I really like the fact that it can produce very good spin with it still being fast and aggressive. I don't know what blade and rubber to use. I want to keep the total price around 120 ish range. Can you help? Thanks
Answer: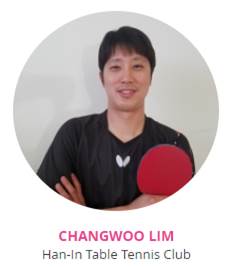 This ask the Experts question was answered by Changwoo Lim. He is the coach at Han-In Table Tennis Club in Palisades Park, New Jersey. Coach Lim's response is as follows:
Hi Cole,
Thanks for your question.
The Killerspin racket you are using is a good pre-made racket, but a fully custom racket will give you a lot of options for customization and I'm glad you decided to make the change.
For reference, the blade on your current racket is a carbon/wood composite blade, and the affixed rubbers are described as "high-tension". Honestly, the $120ish overall budget does restrict your options somewhat as much custom equipment retails for higher than that. That being said, I'll do my best to guide you in the right direction.
From your self-description I would characterize you as an offense leaning all-around player. The carbon composite performance blades generally cost more than $100, so we'll choose a wood blade suited for your similar play style. A popular choice is the Boll Allround blade which is a blade with good feeling that is not too heavy. It will provide you solid control and provide good offensive capabilities. Having played for 3 years, you are not a beginner, but I would recommend that you do not try to find the outright fastest blade at this stage in order to more naturally develop your strokes. Sometimes if the blade is too stiff or fast, it can be harder to maintain good control in short/short situations or looping heavy backspin.
For rubbers I would recommend Rozena on one side and Sapphira on the other. Likely the former in the forehand and the latter in the backhand, but you can try hitting with either side and choose the more comfortable set up. I recommend those rubbers as they can facilitate an all-around style that can still attack well with heavy spin. The Rozena is the more offensive capable of the two rubbers so I would use that on the side you are more comfortable attacking on. Both rubbers should feel just as lively if not more so than your Killerspin racket in terms of bounce or speed, and they can also produce spinny shots.
 The set-up should cost about $130 which is near your desired budget.
 Hope this helps and best of luck in your table tennis journey.
 Coach Lim