Butterfly Table Tennis Question and Answer
Question:
I have a good backhand flip against short underspin balls. My backhand flip is fast and very effective. I am now contemplating, developing a forehand flip but I am not sure if it would be as effective. What I see from players is not as fast and hard as the backhand flip. My question, is it a worthwhile investment in time in perfecting the forehand flip or should I just stick with the fore hand push? Thanks for your assistance
Answer: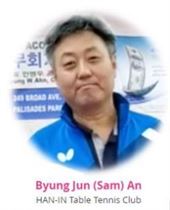 Your Ask the Experts question was answered by Byung Jung An. He is a coach at Han In Table Tennis Club in Palisades Park, New Jersey. Coach An's response is as follows:
Hello Richard,
Having a good backhand flip is a very good thing.
In modern table tennis, back-hand flips are more demanded than forehand flips. However, you shouldn't give up on the forehand flip. Because in a fore-side deep serve or in a doubles match, you have to use a forehand flip.
Only practice 10 minutes of forehand flip practice per day. Then there will be a lot of progress in 3 months.
At this time, the important thing is to bend your wrist (racquet) back and close the distance between the ball and the racket. If you use your right hand, move your right foot and if you use your left hand, move your left foot.
Best of luck!
Coach Sam
Stay "In The Loop" with Butterfly professional table tennis equipment, table tennis news, table tennis technology, tournament results, and We Are Butterfly players, coaches, clubs and more.