Ask The Experts: Byung Jung An, No. 299 Butterfly Table Tennis Question and Answer
Question:
i am using the above mentioned racket. Pls suggest me new rubbers for both forehand and backhand. Ply is not going to change. Only rubbers will change.
Answer: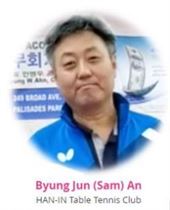 Your Ask the Experts question was answered by 
Byung Jung An
. He is a coach at 
Han In Table Tennis Club
 in Palisades Park, New Jersey. Coach An's response is as follows:
Hi Rudra,
Since you are using Tibhar Evolution MXP, it looks like you prefer hard rubber.
I would recommend 
Tenergy 05 Hard
 from Butterfly. The reason is you can hit the ball faster and stronger in your play. It also gives you the most spin. If you reinforce the impact quickly, you can play stronger.
Tenergy 05 hard will help you play great anywhere on the table!
Best wishes,
Coach An