Ask The Experts: Brian Pace, No. 240
Butterfly Table Tennis Question and Answer
Question:
Brian, I can get plenty of spin on my reverse pendulum serve but no speed. What do I need to do to add speed. Thanks
Answer:
Your Ask the Experts question was answered by Brian Pace. Coach Pace is aNational Level Table Tennis Coach with Dynamic Table Tennis and his response is as follows: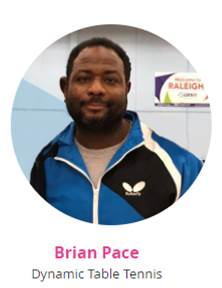 Hello Michael,
Thank you for your question about the pendulum serve. There are a couple of adjustments you can make to speed up your serve.
1st Adjustment: Timing
The first adjustment you can do to get the serve faster is contacting the ball at the complete end of the travel path. That will force you to really snap your wrist to create the spin in the pendulum position. Because you are late making contact the momentum from the ball hitting your racket, then immediately hitting the table will give you the speed you are looking for.
2nd Adjustment: Type of Spin
If you are looking for speed on the pendulum serve, be sure to make contact on the way up in the pendulum movement. The serve ratio of spin should be 60 to 70% sidespin, and 30 to 40% underspin. If you are trying to serve underspin fast, the ball is just going to float off the table. Putting at least 60% sidespin on the ball will ensure that the ball will come down and land on the table on the opponent's side.
Serve Transition
What you are asking for is unique, and it is important to allow yourself transition time. The first type of transition is allowing yourself a long enough block of time to make the serve organically. During this time you will establish the serve spin ratio that works best. The more important transition is learning to adapt yourself to what position the ball is going to land on the table, and how much of that sidespin is still on the ball for you to navigate while you are playing your follow up shot.
Good Luck with your training and improvement.
Coach Pace