Ask The Experts: Brian Pace, No. 174
Butterfly Table Tennis Question and Answer
Question:
Hi coach,
What would be the best type of blade for beginners?
Composite? All-Wood? 5 ply? 7ply? 9ply?
Hope to hear from you.
Jerico
Answer: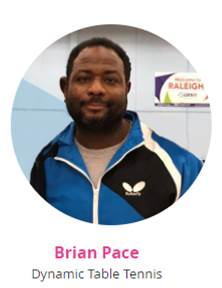 Hello Jerico,
Thanks for your question, I appreciate you taking the time. I think the conflict you have with your current racket set-up is, chemistry. The Viscaria Light is a great blade with a pretty good sweetspot. This sweetspot allows for you to get solid contact when hitting the ball anywhere near the center-top of the blade. What makes that a conflict is the DHS Hurricane 3 NEO that you are using on the forehand. That rubber density only supports all out attacks, and not navigating and spinny ball, soft block, or short return. Your blade wants solid explosive contact, and you should have a rubber with a longer dwell time to allow you to develop more feel. The current rubber you have on the forehand is going to leave your hand feeling numb on touch shots, as well as shots that require you to use a low effort.
Racket Suggestion: Viscaria Light
I would suggest that you keep the 7-ply Viscaria blade because it is important to change one aspect at a time. Since the size increase of the ball, the 7-ply blade has gained in popularity to gain back power being executed for each shot without muscling your shots. I think dropping down to an all-wood blade would require you to use a really fast rubber, that could throw off the total feel.
Forehand Rubber Suggestion: Tenergy 05FX
I think the best forehand rubber you can use right now is Tenergy 05FX. It is the rubber that has enough softness that you can manage your power shots while being able to block, serve shot, handle high spin shots, and short balls. This is a middle of the road type of rubber that allows you to balance your effort.
Backhand Rubber Suggestion: Tenergy 80FX
On the backhand I would recommend you try Tenergy 80FX. It is the rubber that is a slight upgrade to the Tenergy 05FX that allows you to have dwell time on power on the backhand since most players backhands aren't as powerful as the forehand. With this rubber you don't sacrifice control on touch and soft shots.
Racket Upgrade: Primorac Carbon
If you have the touch and feel like you just need a faster blade, then I would suggest the Primorac Carbon. It is a notch up in speed and vibration, and you can keep the Tenergy 05FX and Tenergy 80FX rubber on the forehand and backhand.
Choosing a Blade
One of the unique experiences in table tennis today is choosing a blade, and for good reason. With the advent of "Spring Sponge" technology that made the rubber faster to account for the bigger 40mm ball, also made racket set-ups heavier. To compensate for that, composite blades and hollowed out handles gained in popularity to keep the blade at the ideal total weight. I have found that 5 and 7-ply blades are the most consistent racket set-ups that I see that players stay with.
Once you become aware of what type of style you have, then switching to composite is an ideal upgrade. Composite blade are geared towards having more or less material in the center to make contact more stable or explosive at the sweetspot. Or they have more material around outside the sweetspot to reduce the overall vibration while increasing feel. Those are qualities that you have to identify about your style first, as well as investing some time and money in finding the set-up that best suits your style of play.
I hope this feedback puts you in a better decision to create your ultimate set-up.
Good Luck
Brian