Ask The Experts: Nan Li, No. 139
Butterfly Table Tennis Question and Answer
Blade: Timo Boll ZLC ST
Forehand: Tenergy 64 2.1
Backhand: Tenergy 80 2.1
Question: I play a very aggressive type of game, both speed and spin. I use Tenergy 80 on the backhand but was wondering if I should try/use Tenergy 80 FX instead. I can loop from both wings, but prefer to play mid distance from the table. I can short backhand flick from close to the table but is less consistent than when I am mid distance. Should I continue to use Tenergy 80 on the backhand or switch to the Tenergy 80 FX? Will switching to the Tenergy 80 FX give me more flexibility when flicking close to the table, but then give up some advantages from mid distance?
Thank you in advance for your assistance.
Sincerely,
Tyson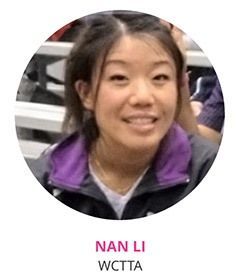 Answer: Hi Tyson,
Thanks for your question and interest in Butterfly equipment.
I recommend for you to try the Tenergy 80 FX rubber. The softer feel of Tenergy 80 FX is more suitable for the mid distance,  topspin game as it creates higher ball trajectories. It is also easier to control and to spin with compared to the Tenergy 80.
Hope you find this helpful and enjoy your new equipment!
All the very best,
Nan Li
Coach @ WCTTA
www.tt-champions.com