Ask The Experts: Kaden Xu, No. 142
Butterfly Table Tennis Question and Answer
Blade: Innerforce Layer ALC
Forehand: Tackifire C Soft
Backhand: Tackiness Drive
Question: Hi, I am a decent all around player and would like to try a new blade and rubber. I am more offense oriented and want to try the Innerforce Layer ALC blade. I have a pretty good backhand smash (I am not sure of the term) and I just miss the table with my current (and very old rubber). I use my forehand for loops and top spin hits. I cannot remember what my first Butterfly blade was but it was an all around wooden blade and it is still great. What do you think of this blade and potential rubber listed for an average player that wants to get more out of my equipment? Thanks for your assistance.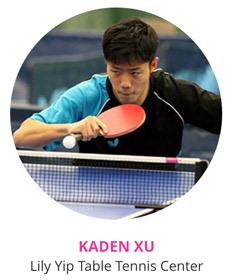 Answer: Dear Skip,
I have yet to try the Innerforce Layer ALC, but one of my students just upgraded from the Petr Korbel (all-wood blade) to the Innerforce Layer ZLC. It seems to have the same type of control the all-wood blades have, but has more speed, and is good for offense.
For rubber, the Tackifire C Soft is not bad for control, but I find the Tenergy series to be better for attacking. I suggest Tenergy 05 for both sides.
Best of luck!
Kaden Xu