Ask The Experts: Junya Chen, No. 159, Butterfly Question & Answer
Ask The Experts: Junya Chen, No. 159, Butterfly Question & Answer
Butterfly Table Tennis Question and Answer Blade
Blade: Zhang Jike ZLC
Forehand Rubber: Tenergy 64, 2.1mm
Backhand Rubber: Tenergy 64, 1.9mm
Question: I would like to know if the Tenergy 25 is more reliable for the backhand than the Tenergy 64 in 1.9 mm on this wood. The best for returning service in short and long cut ball. Best regards.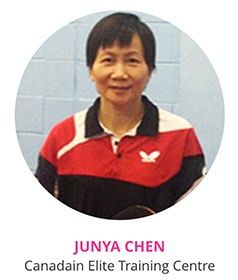 Answer: Dear Tee,
Thank you for your inquiry.
Hi Forget, Tenergy 25 is more suitable for close to table shots and techniques for controlling drop shorts, pushes, etc. Hence, I recommend you to switch to Tenergy25 for backhand, it will increase your consistency for receiving and chopping short/long.
Good Luck!
Junya Chen
Canadian Elite Table Tennis Training Centre Head Coach