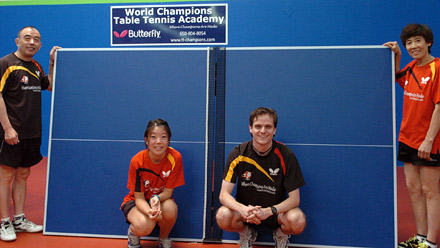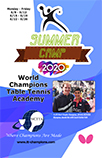 Mark your calendar and save the dates for WCTTA's 2019 Summer Table Tennis Camp in Santa Clara, California.

June 10-14


June 17-21


June 24-28


Kick start your summer off with the WCTTA Training Camps and learn directly from the Coaches who produced Olympic & World Champions. If you are competing in the 2019 US Nationals, this is the ideal way to prepare for July. WCTTA continues to produce record shattering results by winning national titles year after year. Whether you're looking to medal or simply trying to improve your game, the World Champions Summer Camps is the place to be. Our camps are open to all levels and ages so let us help you reach your potential and fulfill your dream... let us make you into a Champion!


Download the Camp flyer & Sign Up Form!

WCTTA Coaches: Li Zhen Shi, Zhang Li, Stefan Feth & Nan Li

The World Champions Table Tennis Academy (WCTTA) is USA's first full-time, professional table tennis Academy. Located in Santa Clara, California - in the heart of the Silicon Valley - we offer private lessons, group trainings, training camps, league competitions, and other special events.

Created to serve the community, and under the leadership of 2 former World Champions, WCTTA is dedicated to educating players on how to play table tennis correctly while having fun. WCTTA offers world-class instruction for players of all age and ability, where the elite becomes better and the novice advances. Personalized program is carefully designed to meet individual needs through the eyes of our experts.

The coaching team at WCTTA is the most experienced in North America. Led by 2 former 4x World Champions, Li Zhen Shi and Zhang Li. Coach Li and Coach Zhang were coaches for the Chinese National Team & Ba Yi Army Team. Not only were Coach Li & Coach Zhang World Champions themselves, they also created students who became World Champions, Olympic Champions and Chinese National Champions as well (Fan Chang Mao, Wang Tao, Gao Jun, Liu Wei, to name a few). After moving to the US, Coach Li & Coach Zhang also led the US Olympic & National Teams.

Complementing this diverse coaching team is the long time German National Team Member and the current US Men's Olympic & National Team Coach, Stefan Feth. Our coaching team is completed with former multi-times US Junior National Champion, World Junior Championships Bronze Medalist in Singles, as well as prior Women's National Team Member, Nan Li.

Please visit our Coaches Bios for more details and background information.


Join WCTTA to reach your maximum potential!
Private Lessons, Group Classes, Training Camps, &
Various Other Coaching Methods and Exhibitions!



CONTACT
Phone: 650-804-8054 or 650-861-1057
Email: ttworldchampions@gmail.com
LOCATION
World Champions Table Tennis Academy
2981 Mead Ave.
Santa Clara, CA 95051