Ask The Experts: Hui Wang No. 218
Butterfly Table Tennis Question and Answer
Question:
Why pro players don't smash "fishing"balls (or do it rarely) ? They play with topspin these balls not with flat shot. I don't understand. 
Answer: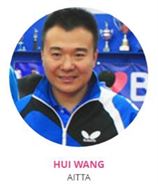 This Ask the Experts question was answered by Hui Wang. He is the head coach at the Atlanta International Table Tennis Academy in Johns Creek, GA. Coach Wang's response is as follows:
Hi Ilian,
Strong topspin can be difficult to return, that's why most of the time they will not just smash the ball.
I hope this is helpful!
Coach Wang