High Tension Rubber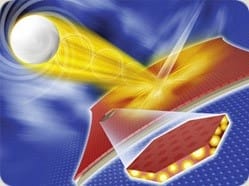 Butterfly High Tension Rubbers
  High Tension
Exclusive Energy-Built-In Technology

High Tension rubbers developed by BUTTERFLY's peculiar technology are excellent in quality and strength, not to mention their repulsion force in hitting ball. In general, the more we put tension on a rubber, the more easily its surface tears. If a rubber's surface is not intense enough, its brim can be easily broken and the surface cannot withstand even rallies, which does not work at all. BUTTERFLY's High Tension rubbers have both the super-high performance players expect and the intensity and quality table tennis rallies require. Our energy-built-in technology is the secret of their popularity and it makes a clear departure from others.
  Comment from the Developers
Our Duty to Guide Table Tennis
BUTTERFLY's 'High Tension' rubber is a super high performance rubber developed by our peculiar technology to put energy built-in. Since the release of BRYCE in 1997, High Tension rubbers have won a lot of major titles inside and outside of Japan, including World Table Tennis Championships and Olympics. High Tension rubbers have got a lot of support from many top players with its exquisite high performance and high quality, which are obviously different to other rubbers categorized as 'Tension Series' and made its mark on the history of table tennis equipment. High Tension rubbers are still in progress and the technology has been succeeded into BRYCE SPEED and TENERGY. High Tension rubbers carry our development concept to win titles at world-class competitions and our duty as a leading company to guide table tennis to the cleaner sport.