Ask The Experts: Brian Pace, No. 171, Butterfly Question & Answer
Butterfly Table Tennis Question and Answer
Featured Question
Blade: Dawei F (ST)
Forehand Rubber: DHS Tinarc 3 Med Hard
Backhand Rubber: DHS Tinarc 3 Soft
Question: Hello, I'm a two winged looper that focus on attacking and countering
close to the table and mid distance if it has to come down to it.
I have great touch and prefer to use my backhand to setup the attack and finish the point with the forehand. Although My current setup gives me everything I ask for I wanted to know if there is a good combination here. I prefer using a glass fiber blade butterfly had one and discontinued it so what would be the best thing ?
Thank you for your time.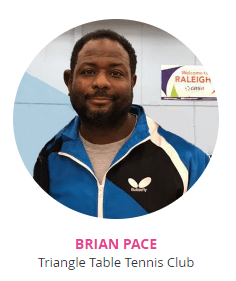 Answer: Hello Omar,
Thanks for your question. Based on your style I would suggest that you upgrade your rubber and racket.
Rubber Suggestion: Tenergy 64
If you are a close to the table attacker, then the Tenergy 64 on your forehand and backhand is a perfect choice. It is a major upgrade in explosive power that you can create at the table with no loss of control over the travel path of the ball. Of all the Tenergy rubbers, the Tenergy 64 is the best choice for attacks that have a sharp trajectory, and this is especially effective if you want to execute any counter attacks. It does have enough range that you can play mid-distance and still have great control over the ball travel. The Tinarc rubbers that you are using are best when they are played at the table, and you may be out of the range of play with those rubber when you have to play mid-distance. The Tenergy 64 will give you the best of both worlds.
Racket Suggestion: Innerforce Layer ZLC
The only Butterfly racket that I'm aware of that was fiberglass was the Maze Passion, and if you want to stay within the range of speed and control that will fit with the Tenergy rubber, then I would suggest that you use the Innerforce Layer ZLC. This blade has the feel that will match well the high tension rubber of the Tenergy 64. The goal is to have a blade with a big sweet spot that allows you to get the most feel out of your attack shot without losing control on the touch shots.
Training Suggestion: 4-6 week Grace Period
You are making 2 adjustments at one time, so give yourself 4-6 weeks with the new set-up to allow yourself to fully adjust to all the shots you play. At the end of this period is when you can determine any adjustments you need to make to your combo. Make sure that the "Close Attack" is the standard behind what adjustments you need to make since it the primary approach of attack for your game.
Good Luck out there loop my friend!