Ask The Experts: Brian Pace, No. 167, Butterfly Question & Answer
Butterfly Table Tennis Question and Answer
Featured Question
Blade: Yasaka Ma Lin Extra Offensive
Forehand Rubber: Mark V
Backhand Rubber: Mark V
Question: Hi coach,
What is the main difference in the Timo Boll blades (W7, ALC, ZLC, ZLF) and what Tenergy rubber do you recommend for each blade?
I am an attacking player and want as much speed as possible with soft touch near the net.
Thanks.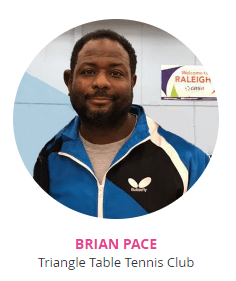 Answer: Hello Brad,
Thanks for your question, and it is one that comes up quite often. The Timo Boll Series is geared towards allow different levels of comfortable for power, control, and feel. Based on your question, I would like to break down which racket/rubber combo you should use based on what your goals are.
Fast Blade: Timo Boll ZLC Blade
Of all the blades in the Timo Boll Series, the Timo Boll ZLC is the best choice for a player like you that is looking for the maximum amount of power, while wanting control over the table. This blade has as much power that you can get, while still having a large sweet spot that will allow you to control the touch shots over the table. There are blades below the ZLC like the Timo Boll W7, as well as the Timo Boll ALC that is above it, but the ZLC puts you right in the middle of power and control.
The Timo Boll ALC is a major jump up in power, but there is going to be a loss of control because the racket is so fast. If you feel like one of your natural talents that you were born with is touch, then the ALC is not a bad choice.
Attacking Rubber/Control: Tenergy 25 and Tenergy 05FX
Since you are upgrading from the Mark V and want good touch, one of the rubbers that has a long dwell time in the Tenergy Series, is the Tenergy 25. It has the Spring Sponge Technology for the all-out attack shots, but it has the largest pips that allow the ball to stay on the racket longer. This will result in more control where it is needed most and that is on over the table touch shots like push, flip, and short return.
To create some range with your attack, you can use the Tenergy 05 FX on the backhand. This rubber is an upgrade in speed and control based on the Tenergy 25. Since you may be potentially changing both rubber, having 2 rubbers that are close in range will help you adapt to any of them that performs more natively to how you perform. And over time you will have a better idea of which rubber suits you skillset and natural ability.
Final Advice
Once you have this set up, make sure you have not only trained with it, but also played some matches to see how the new racket/rubber combo performs when you are hitting shots in the heat of the moment, because that is the biggest indicator of feedback you can get.
I hope this info gets you to the best competitive set-up.