(Courtesy of Triangle Table Tennis)
2018 TRIANGLE FEBRUARY OPEN WRITE UP
Last Saturday, we ran our 2-star 2018 Triangle February Open Tournament.  While it was 75 and sunny outside (in late February no less), we still had over 70 players spread out over 5 events and 32 tables.  This was by far our biggest February tournament to date, with participation nearly doubling last years numbers.
The day started with the U1350 event kicking off at 10:00.  In the 16-player field, top seed Madhav Arepalli (1337) established himself as the early favorite, dropping just 3 games in 7 matches of round robin play in Group 1.  The top 4 seeds in this group advanced to the knockout stage.  Group 2 was a bit messier, with the 2, 4, 5, and 6 seeds getting out after all being tied for first!  Madhav continued his dominance en route to the finals, dropping just a single game, and ended up with a rematch of the emerging 2-seed from his group, Sangram Kadam (760).  Sangram was able to win a game during their group-play match but wasn't so lucky in the finals, with Madhav taking the match in straight games (6,10,6).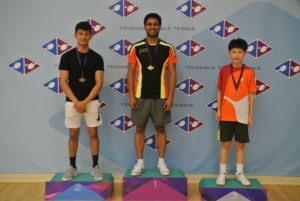 The second event to run was the U1750, with a nearly full field of 23 competitors.  The top 4 seeds in each group advanced to the single elimination bracket with a few exceptions (Jhon Mendoza was the 5-seed in his group, Christian Mard was also a 5-seed).  Once it got the semifinals, however, all that remained were the #1 and #2 seeds from Groups 1 and 3.  Shahriar Elias (1650) was able to overcome a 0-2 deficit to Omar Garcia to get into the finals.  Gangchen (Victor) Ren cruised into the finals, beating Changbo Lu (1559) 3-0.  Shah and Gangchen were the top seeds in their round robin group, with Gangchen taking the first match up 3-1, and the finals finished with same scoreline.   Shah fought hard, but Gangchen's backhand punch proved too much for Shah to handle.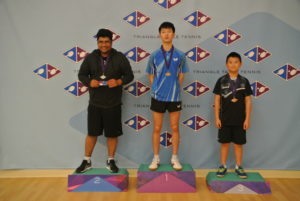 For full article, please click here